The Frederick Academy of Real Estate is proud to offer the latest in online learning courses through a variety of online course partners. We are one of the few schools whose Director has acheived the CDEi certification. Please visit our Frequently Asked Questions section for detailed information about online courses.




SALESPERSON PRE-LICENSING





Maryland

: Become a Maryland Real Estate Salesperson



Virginia

: Become a Virginia Real Estate Salesperson **NEW**



Washington, D.C.

: The CE Shop offers the required 60-hour DC Principles and Practices of Real Estate course.



Pennsylvania

: The CE Shop offers the required 30-hour Real Estate Fundamentals and 30-hour Real Estate Practice courses, along with multiple course package options. A proctored final exam is required.



New York

: The CE Shop offer the required 75-hour Real Estate Salesperson License course. A proctored exam is required.




LICENSING EXAM PREP


We have partnered with CompuCram to offer the most comprehensive exam prep system on the market today. Their all-in-one system includes study vocabulary, practice testing and a simulated exam -- all with a 100% money-back guarantee. Just released February 2016: CompuCram Real Estate Exam Prep - National + Virginia.





CONTINUING EDUCATION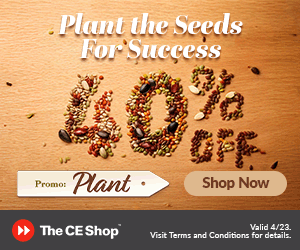 All 50 States and D.C.

: The CE Shop offers required and elective continuing education courses for all 50 states and the District of Columbia. One-stop shopping for students who hold licenses in multiple states. Multi-course packages are available. Monthly discount codes offered (see photo on right). The CE Shop will email certificates to students directly and will report all completion information to the appropriate Real Estate Commission, if required.



Maryland

: RECampus Courses


Courses Available:

Sales Prelicensing (60 Hours), MREC Agency-Residential (only for licensees who are primarily residential practitioners), MREC Agency-Commercial (only for licensees who are primarily commercial practitioners), MD Ethics & Predatory Lending, Maryland Legislative Updates, Maryland Fair Housing (1.5 hours), Fair Housing, Understanding 1031 Tax-Free Exchanges, Red Flags Property Inspection Guide, Introduction to Commercial Real Estate, Real Estate and Taxes, Real Estate Finance Today, Risk Management - (Course Designations) (Download Maryland Affidavit for Cont. Ed. Students)
Note: For continuing education courses, you must pass the final exam with a score of 70% or better to receive credit, but you are given two chances to pass the exam.



Pennsylvania

: OnCourse Learning Courses


Courses Available:

Sales Prelicensing, Broker Prelicensing ,Tax Advantages of Home Ownership, Pricing Property to Sell, Methods of Residential Finance, Maximize Your Buyer's Borrowing Power, Tax Free Exchanges, Commercial Sales and Exchanges, Commercial Finance and Investment Analysis, Commercial Leases
Note: All online prelicensing courses require a final, proctored exam which will be administered in York, PA.
For more information, please read Prelicensing Course Procedures.



Virginia

: RECampus Courses


Courses Available:

Virginia Real Estate Principles (60-hour pre-licesning course), Various Post-licensing Courses (Download Virginia Affidavit)




Frequently Asked Questions



How do online courses work?
An online course is similar to a PowerPoint presentation. You read the information on each screen and then click to go to the next screen. The online course providers divide their courses into several sections or units. At the end of each unit, there is a short reading comprehension quiz that you need to pass in order to move to the next unit. (You are given unlimited attempts to pass the quizzes.) For Maryland, Delaware and New York courses, there is a final multiple choice exam that you pass in order for the course to be marked as completed.

How do I obtain a course completion certificate?
For RECampus and OnCourse Learning courses, you will electronically sign an affidavit at the end of your course and the Online Course Coordinator is notified via email. For Maryland courses taken through RECampus, print our affidavit, complete it and fax it to 717-244-6824 or scan and email it to frederickacademypa@comcast.net. You should receive a certificate within 5 business days from your course completion date. If you need copy of your certificate ASAP, please call us at 1-800-339-6089 or send an email request to frederickacademypa@comcast.net. Students who complete courses through The CE Shop will receive their completion certificates directly from The CE Shop via email and certificates will remain accessible in the student's account for five years.

Are online courses reciprocal?
We have not received anything in writing from neighboring states regarding online course reciprocity. Please contact your state's Real Estate Commission to verify if your out-of-state online course will be accepted for continuing education credit.

Can I stop and start my course or do I have to complete it all at once?
The course will time stamp where you leave off, so that you can stop and start the course at any time.

How do I log in to my course?
For RECampus courses, visit portal.recampus.com. For OnCourse Learning, visit cfmenterprises.licenseschool.com. For courses purchased through The CE Shop, visit frederickacademy.theceshop.com/myeasytrack. Note: Using a wireless or WiFi internet connection is not recommended. Losing connection to the server via WiFi will cause automatic logout from the course.

Which states require an affidavit? How do I obtain one?
Maryland and Virginia require signed affidavits. Virginia requires that you sign your affidavit in the presence of a notary public. You can download PDFs of the affidavits: Maryland and Virginia.

What is your refund policy?
For online continuing education courses, you have the right to cancel your registration for a full refund for any reason up to five (5) business days from the date of purchase. Requests for cancellation must be made by contacting the Frederick Academy of Real Estate by phone at 1-800-339-6089 or by e-mail at frederickacademypa@comcast.net. If a refund request is made after the fifth business day, it is at the discretion of the Academy as to whether a refund will be granted. The Academy will not honor a cancellation request for a completed course under any circumstances. The refund policy for the Maryland Pre-licensing course is outlined in your Enrollment Agreement form.

Whom should I contact if I have questions about my online course?
For general questions, please contact Mindy McGowan at 1-800-339-6089 or frederickacademypa@comcast.net. For technical questions, please use the following phone numbers: OnCourse Learning Tech Support: 1-800-743-8703, RECampus Tech Support: 1-888-213-5124, or The CE Shop: 1-888-827-0777.